Join the Catholic Gators of the University of Florida and the Catholic Bulls of the University of South Florida on an unforgettable pilgrimage to Italy! We will be visiting Rome and the Vatican, touring the Pope's summer palace, hiking on the Way of St. Francis, and exploring Assisi.  Prayer, delicious Italian food, wonderful company, historic sights, and incredible experiences will be with us all along the way!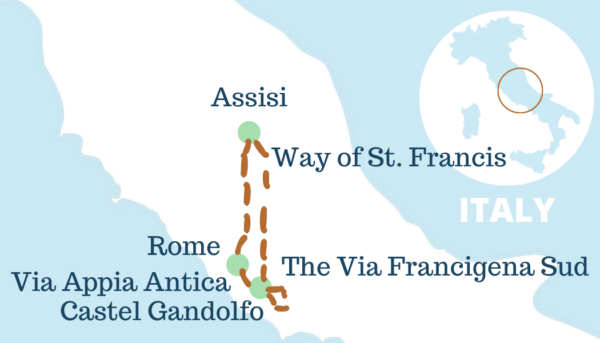 HIGHLIGHTS
Mass in St. Peter's Basilica at the Vatican
Hiking the Way of St. Francis through hillside olive groves to Assisi
The Catacombs of St. Callixtus
Rome (Day 1-5)
Mass in St. Peter's Basilica I Vatican Museums and Sistine Chapel I Roman Forum and Colosseum I Trevi Fountain, Pantheon, and Piazza Navona I St. Paul Outside the Walls, St. Mary Major, and St. John Lateran I Explore the small streets of the Eternal City I Enjoy some free time and plenty of gelato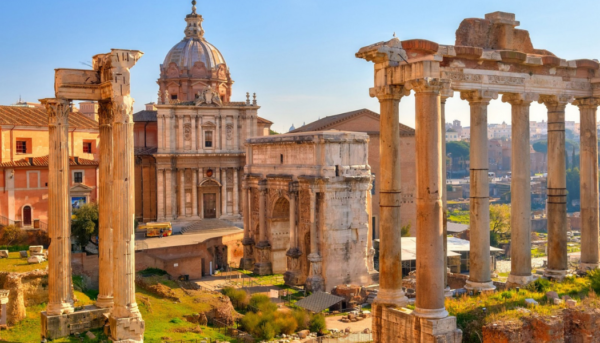 Castel Gandolfo & Via Appia Antica (Days 5-7)
Discover the Castelli Romani (Roman Castles), several small towns in the hills outside of Rome I Hike between Castel Gandolfo and Nemi on the Via Francigena Sud I Visit the Pope's summer palace and gardens I Swim in the crystal-clear volcanic crater lakes of Albano and Nemi I Hike the Via Appia Antica, one of the oldest roads in the world, to the Catacombs of St. Callixtus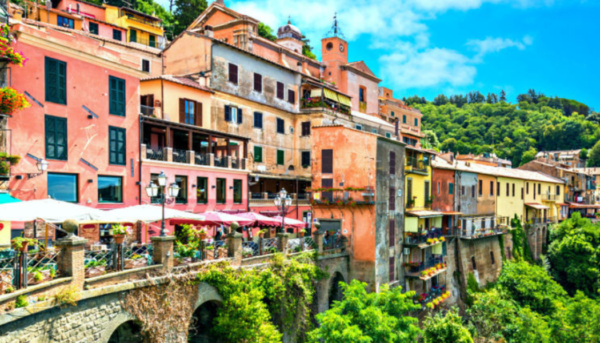 The Way of St. Francis (Days 7-8)
Hike two consecutive days on the Way of St. Francis, the path that connects the important places of the life of St. Francis to Rome I Experience the wonderful olive groves and lovely vineyards along the way I Break from hiking in beautiful towns like Trevi and Spello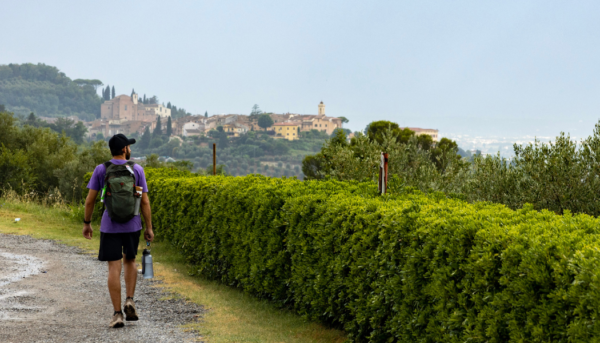 Assisi (Days 8-11)
Arrive in Assisi and visit the basilicas of St. Francis and St. Clare and pray at their tombs I  Enjoy a layover day in Assisi to pray, relax, and soak in the views from the hillside town I  Optional hike up to the Hermitage of St. Francis I Spend the last evening of the trip in Rome before departure the following morning 
*Itinerary subject to change
Religious Houses
 We will be staying in the guest accommodations of religious houses (monasteries, convents, sanctuaries, etc.).  The faith, culture, and history of these places really adds to the character of our pilgrimage.  The rooms are clean, comfortable, and nice, but not "luxurious'". Normally 1 or 2 roommates, but some lodgings may have multiple bunk beds in one room.  Air conditioner is generally not available.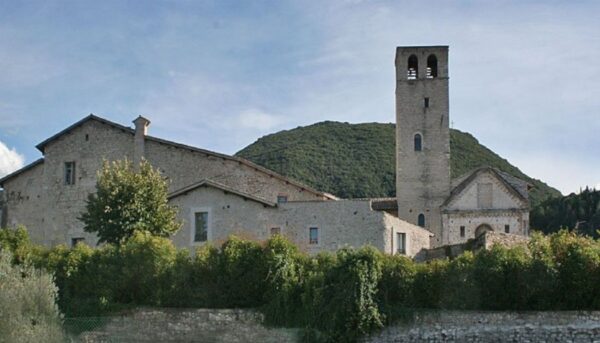 EATING
 We eat dinners mainly at restaurants. Menus may be limited to fixed options or set menus. Lunches will usually be picnics.  Breakfasts provided are in the local style (typically not as hearty as American style). We can accommodate most food allergies.
BACKPACKS
All of your belongings must fit in a backpack worn on your back.  We indicate in the Activity Levels section if hiking will be done with a backpack or a daypack.  No rolling suitcases or other types of luggage are allowed on this trip.  We will provide a detailed packing list.
PRAYING
Prayer is at the heart of the pilgrimage.  Daily mass, the liturgy of the hours, the rosary, and other prayer opportunities will be available throughout the pilgrimage for you. We will have chaplains on this pilgrimage.
• 10 nights lodging
• All breakfasts
• 4 lunches
• 9 dinners (with a drink)
• All ground transportation during the pilgrimage
• Entrance fees into the Vatican Museums, Catacombs of St. Callixtus, Colosseum, Roman Forum, and Papal Palace of Castel Gandolfo
• Airport shuttles to Rome at the beginning and from Rome at the end of the pilgrimage
• Outdoor activities
• Pilgrimage materials (reading packet, prayer booklet, maps, group gear)
• Masses and other spiritual activities
• All tips and service charges to drivers, restaurants, etc.
• Flights
• 6 lunches
• 1 dinner
• Single room supplement ($600)
• Anything else not listed
may 7-17, 2024
Sign-up Deadline: January 20, 2024 
AMALFI COAST & CAPRI
Italy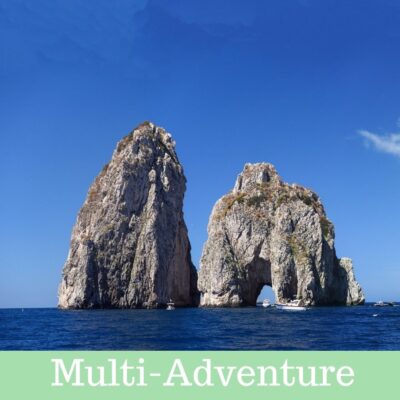 UF/USF pilgrims will receive a $200 discount on this incredible coastal pilgrimage that begins just after the UF/USF pilgrimage ends
Day 5: Hiking
Level 3: 11.5 miles, 1,427ft elevation gain, Daypack, Optional
Day 6: Hiking
Level 2: 9.7 miles, mostly flat, Backpack
Day 7: Hiking
Level 3: 7.5 miles, 1,643ft elevation gain, Backpack
Day 8: Hiking
Level 3: 10.4 miles, 1,000ft elevation gain, Backpack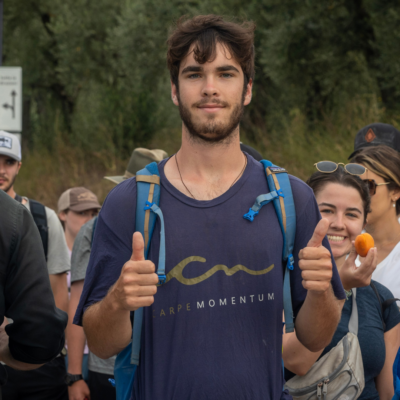 Click here to learn more about how we determine our activity levels. "Optional" means it is easy for you to skip the activity.  Skipping or modifying other routes may be possible but not in an easy manner.  Distances may vary from the information given above. Activities are weather-dependent 
Arrival
Rome Fiumicino Airport (FCO). Staff will be at airport the morning of arrival day to greet you. The official pilgrimage start time is noon- please arrive before then. Pilgrims will be brought to Rome in groups based on arrival time.  If you arrive before or after start day, we can help you make arrangements to meet us independently.  Please wait to buy your tickets until you receive a confirmation from us.
Departure
Rome Fiumicino Airport (FCO). The official pilgrimage end time is 7 am on departure day. We will arrange transportation to the airport for you anytime that day until noon. If you are staying later or leaving early, we can help you make your own arrangements.
Transportation
We will be using a variety of transportation on this pilgrimage which may be public or private: coaches, shuttles, taxis, trains or metros.   
Insurance
Each pilgrim should have health insurance. We recommend purchasing traveler's insurance as well.
Eligibility
Must be comfortable with the activities and activity levels listed.  Must have a sense of adventure and be able to carry all of your belongings in your backpack.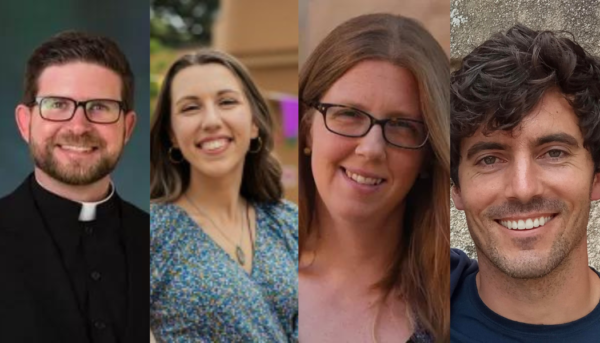 FR. BLAIR GAYNES– UF Catholic Center Director
FR. KYLE BELL– USF Catholic Center Director
CATHERINE KUIZON– USF Campus Minister
ASHLEY HEMINGWAY– UF Campus Minister
CHRISTOHER BAKER– Founder and Director of ALP
Step 1: Apply
 Fill out the short online application form
Step 2: Registration
We will send you the registration packet to complete and send back to us
Step 3: Payment & Confirmation
Please wait to buy your plane ticket until you recieve a confirmation