Tuscany & the italian riviera

This pilgrimage boasts some of Italy's most iconic beauty from its colorful coastline to the rolling green hills of Tuscany, and from the Renaissance city of Florence to the hilly town of Siena.  St. Catherine of Siena's relics, a path dedicated to Our Lady overlooking the Sea, and many other holy destinations await us along the way– good food, great company, and fantastic experiences fill in the rest!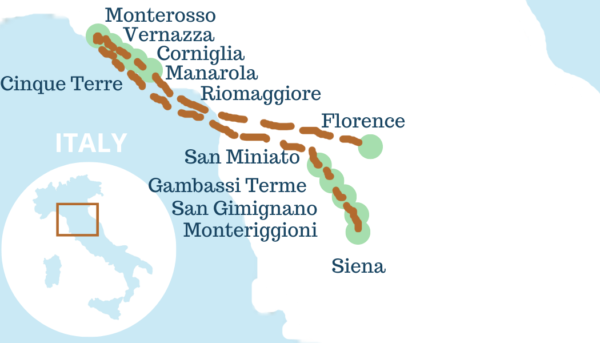 HIGHLIGHTS
Kayaking to the cliff-side church San Pietro in Portovenere on the crystal clear waters of the Mediterranean 
Hiking on the Via Francigena, the path from Canterbury, England to Rome
The city of Florence and all of its artistic and spiritual treasures
Florence (Days 1-3)
Arrive in Florence I Brief orientation I Visit the Uffizi Museum I Pray in Santa Croce I  Explore the cathedral and see the famous baptistery doors by Ghiberti I Admire the Ponte Vecchio, the colorful "old bridge" I Discover the relics of the saints buried in Florence I Eat a gelato or two I See the leaning tower of Pisa after leaving Florence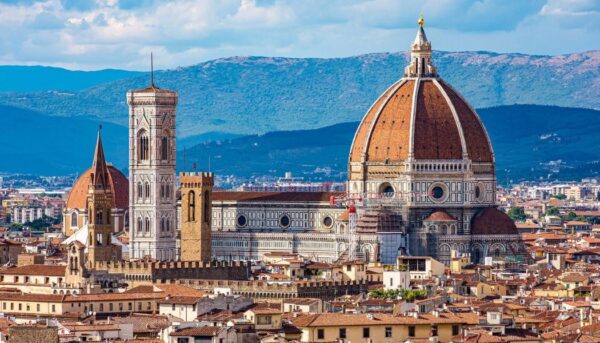 Cinque Terre (Days 3-6)
Transfer to the five colorful fishing villages on the coast known as the Cinque Terre I Spend an incredible day on the crystal-clear water kayaking to the Church of San Pietro in Portovenere I Bike a path carved in and out of the mountain to the little church Santa Maria della Punta I  Hike the sanctuary trail dedicated to Our Lady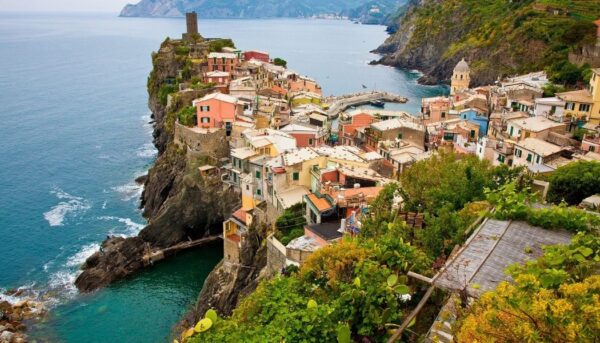 The Via Francigena (Days 7-10)
Start your journey to Siena on foot along the Via Francigena I Three consecutive days of hiking plus one optional day I We will use luggage transfers, and you often have the option to hike the full day's route or just half of it I Hiking begins in San Miniato and we will be sleeping in some incredible towns like San Gimignano and Monteriggioni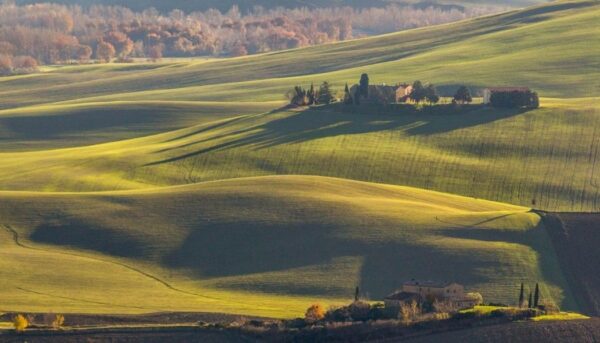 Siena (Days 10-12)
The fourth day of hiking brings us into the lovely (and hilly) town of Siena I Pray at the relics of St. Catherine of Siena and visit her house I Explore the stunning cathedral of Siena with its impressive façade and elaborate floors I Relax in the main piazza of the town I Enjoy some local Sienese food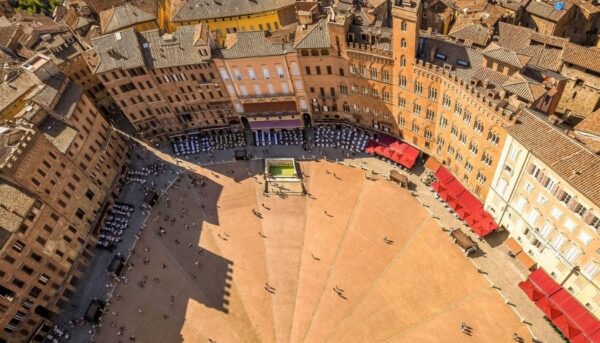 Religious Houses & Hotels
 We stay mainly in the guest accommodations of religious houses (monasteries, convents, sanctuaries, etc.).  The culture and history of these places really adds to the character of our pilgrimage.  The rooms are clean, comfortable, and nice, but not "luxurious'". Normally 1 or 2 roommates of the same gender.  If you are interested in a single-room supplement, please contact us- we cannot guarantee its availability.  Air conditioner is generally not available.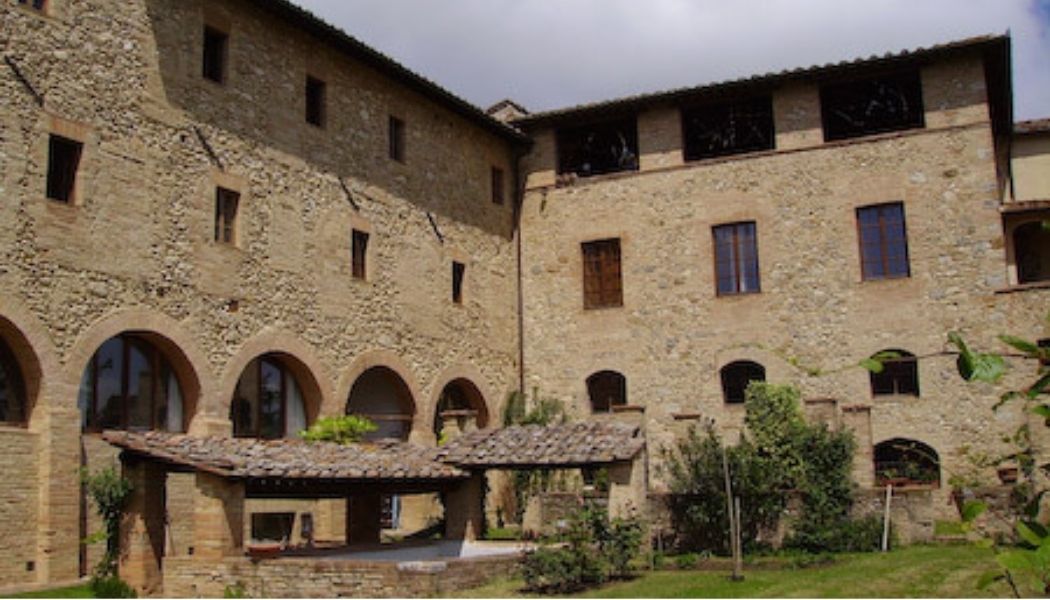 EATING
 We eat mainly at restaurants. Menus may be limited to fixed options or set menus. Some meals may be picnics.  Breakfasts provided are in the local style (typically not as hearty as American style). We can accommodate most food allergies.
BACKPACKS
All of your belongings must fit in a backpack worn on your back.  We indicate in the Activity Levels section if hiking will be done with a backpack or a daypack.  No rolling suitcases or other types of luggage are allowed on this trip.  We will provide a detailed packing list.
PRAYING
Prayer is at the heart of our pilgrimages.  Daily mass, the liturgy of the hours, the rosary, and other prayer opportunities are available throughout the pilgrimage for you to join as you like.  We hope to have a chaplain on every trip, but we cannot guarantee this.
TUSCANY & THE ITALIAN RIVIERA

• 11 nights lodging
• All breakfasts
• All dinners (with a drink)
• Ground transportation until the last day
• Airport shuttle at the beginning of the pilgrimage
• Entrance fees for the Uffizi, Santa Croce, Siena Cathedral, and San Gimignano Church
• Outdoor activities (guides, rental equipment, tips)
• Pilgrimage materials (reading packet, prayer booklet, maps, group gear)
• Masses and other spiritual activities
• All tips and service charges to drivers, restaurants, etc.
• Flights
• All lunches
• Transportation from Siena at the end of the pilgrimage
• Single room supplement if available ($650)
• Fee if paying by credit card
• Anything else not listed
A version of this itinerary is running in the summer of 2023 as the "alta Via"
Sign-up Deadline:  I Max Capacity: 
Day 4: Kayaking
Level 4:  12 miles, 5-6 hours. Sea. Optional
Day 5: Biking
Level 1: 9 miles, 127ft elevation gain. Optional
Day 3-6: Hiking
Level 1-5: There will be various optional hiking opportunities available throughout the Cinque Terre
Day 7: Hiking
Level 3: 7.5 miles, 400ft elevation gain. Daypack
Level 5: 15 miles, 1312ft elevation gain. Daypack
Day 8: Hiking
Level 3: 8.3 miles, 1148ft elevation gain. Daypack
Day 9: Hiking
Level 3: 8.5 miles, 918ft elevation gain. Daypack
Level 5: 19 miles, 1804ft elevation gain. Daypack  
Day 10: Hiking
Level 4: 12 miles, 984ft elevation gain. Daypack. Optional
Click here to learn more about how we determine our activity levels. "Optional" means it is easy for you to skip the activity.  Skipping or modifying other routes may be possible but not in an easy manner. Activities are weather dependent. Distances may vary from the information given above
Arrival
Florence Peretola Airport (FLR) . Staff will meet you at the airport.  You may also fly into Rome and take a high speed train up to Florence and meet ALP staff in town. The official pilgrimage start time is 1:00p.m.- please arrive before then. Please wait for a confirmation to buy a plane ticket.
Departure
This pilgrimage ends in Siena.  From Siena, it is easy to take a train or a bus to get back to Florence or Rome.  The official ending time of the pilgrimage is 7am on departure day, but you are free to leave whenever you need.  If you have an early flight the morning of departure day, you may leave the evening before for Rome or Florence if you'd like.  ALP staff is happy to help you with your travel plans after the pilgrimage.
Transportation
We will be using a variety of transportation on this pilgrimage, both private and public.  We will be using some private taxis and shuttles, trains, and we may occasionally hop on a bus.  
Insurance
Each pilgrim should have health insurance. We highly recommend purchasing traveler's insurance as well.
Eligibility
Must be comfortable with the activities and activity levels listed. Must be able to carry all of your belongings in a backpack and have a sense of adventure.  Must be able to swim in order to kayak.
Step 1: Sign up
 Fill out our short online form
Step 2: Registration
We will send you the registration packet to complete and send back to us
Step 3: Payment & Confirmation
Please wait to buy your plane ticket until you recieve a confirmation