Join LSU Christ the King on a pilgrimage to the Alps and to the Mediterranean Sea to visit apparitions sites of the Blessed Virgin Mary and St. Joseph, the cave of St. Mary Magdalene, an island monastery, the Grande Chartreuse, and much more!  Our journey will take place in Italy, Switzerland, and France and will be overflowing with beautiful sights, heartfelt prayer, delicious food, and excellent company all along the way.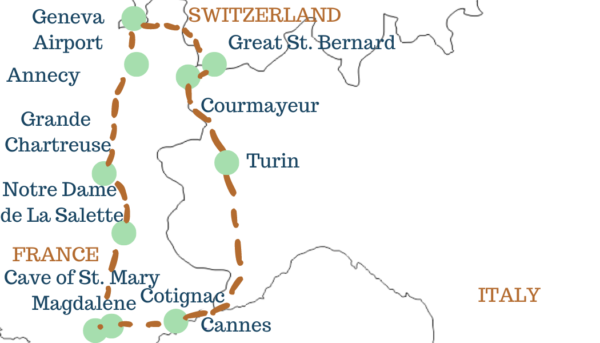 HIGHLIGHTS
The tomb of Blessed Pier Giorgio Frassati
Hiking in the Alps on the Great St. Bernard Pass 

Kayaking to the island Abbey of Lerins
The Alps
Days 1-5: Transfer from the Geneva Airport to the Great St. Bernard, an ancient monastery on a high mountain pass just across the Italian border into Switzerland where the St. Bernard dog comes from I Hike to some incredible alpine lakes I Hike on the Via Francigena, the route from England to Rome, to Saint Oyen I Explore Courmayeur I Hike on the world famous Tour du Mont Blanc to Rifugio Elisabetta and the sanctuary Notre Dame de Guerison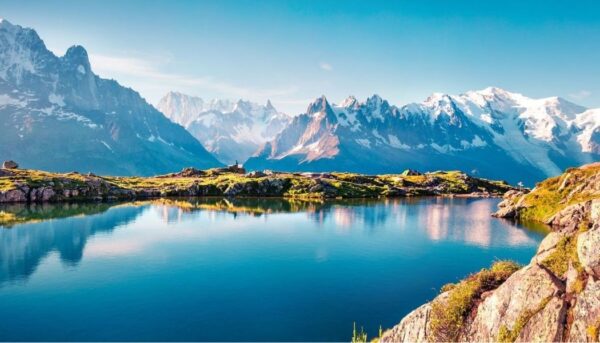 The French Riviera
Days 6-8: Transfer to Cannes stopping in Turin along the way to pray at the tombs of Blessed Pier Giorgio Frassati and St. Don Bosco I Kayak to the islands of Sainte-Marguerite and Saint-Honorat I Pray in the 5th century Abbey of Lerins, one of the oldest in the western world I Enjoy some swimming in the crystal-clear waters of the Mediterranean I Kayak along the edge of the red- colored rocky mountains of the Esterel Massif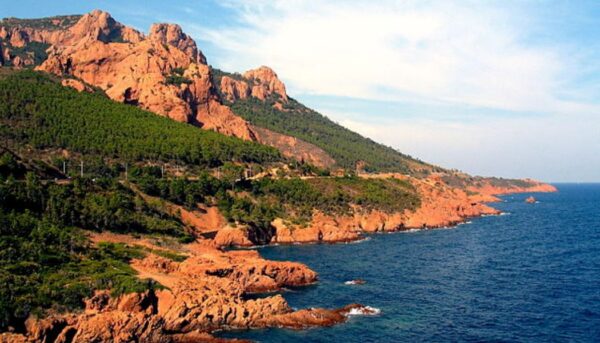 Provence
Day 9: Transfer into the nearby region of Provence, famous for its beauty, especially its lavender fields in July, and rich spiritual history I Visit the mystical town of Cotignac, the only place in the world to boast an apparition of Our Lady and St. Joseph on separate occasions I Hike up to the Holy Cave of St. Mary Magdalene where she spent the last part of her life in prayer I Enjoy views of the Mediterranean Sea in the distance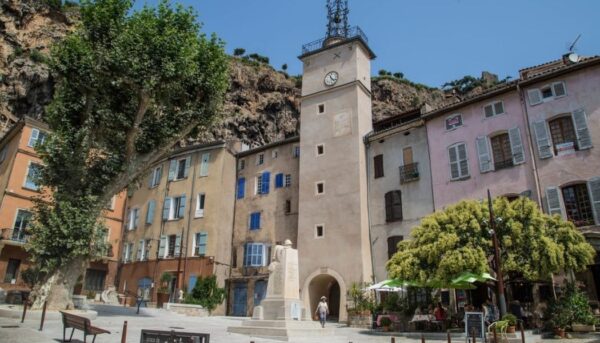 Auvergne-Rhône-Alpes
Days 10-12: Transfer to the neighboring region of France where we will visit the Sanctuary of Notre Dame de La Salette where Our Lady appeared in 1846 I See the Monastery of the Grande Chartreuse, famous for its liqueur and the film "Into Great Silence" I Pray at the tombs of St. Francis de Sales and St. Jane Frances de Chantal I Bike around Lake Annecy I Transport to the Geneva Airport the morning of day 12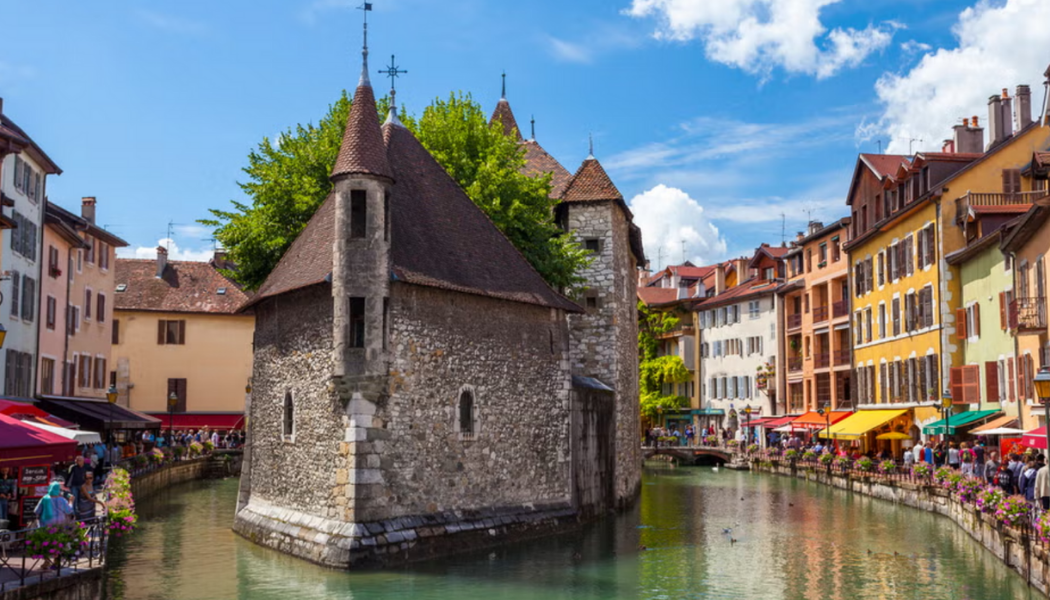 *Itinerary is subject to change
The lodgings on this trip are incredible places.  Several nights will be spend in "rifugi" which are designed to give backpackers a bed and a delicious meal. Typically, the rooms are dormitory style with several bunk beds.  In these structures ALP cannot guarantee that rooms will be separated by gender or from non-ALP participants, although we do request both.  Other nights you will typically have 1 or 2 roommates of the same gender.  Bathrooms may not always be en suite.  Air conditioner is generally not available.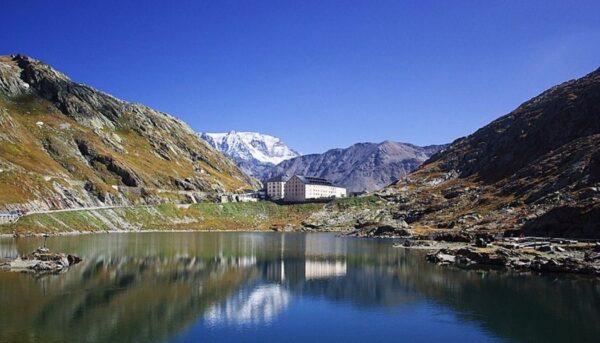 EATING
 We eat mainly at restaurants. Menus may be limited to fixed options or set menus. Lunches will typically be picnics.  Breakfasts provided are in the local style (typically not as hearty as American style). We can accommodate most food allergies.
BACKPACKS
All of your belongings must fit in a backpack worn on your back.  We indicate in the Activity Levels section if hiking will be done with a backpack or a daypack.  No rolling suitcases or other types of luggage are allowed on this trip.  We will provide a detailed packing list.
PRAYING
Prayer is at the heart of the pilgrimage.  Mass, the liturgy of the hours, the rosary, and other prayer opportunities are available throughout the pilgrimage for you to join as you like.  We hope to have a chaplain on every trip, but it is not confirmed yet.
• 11 nights lodging
• 9 breakfasts
• 2 lunches
• All dinners (with a drink)
• Ground transportation
• Airport shuttles at the beginning and end of the pilgrimage
• Outdoor activities (guides, rental equipment, tips)
• Pilgrimage materials (reading packet, prayer booklet, maps, group gear)
• Masses and other spiritual activities
• All tips and service charges to drivers, restaurants, etc.
• Flights
• 2 breakfasts
• 9 lunches
• The St. Bernard Museum or visit to the dog kennels
• Single room supplement, 7 nights ($650), 11 nights ($950)
• Fee if paying by credit card
• Anything else not listed
July 16-27, 2024
Sign-up Deadline: March 15, 2024

Day 2: Hiking
Level 3: 7.5 miles, 2,875 ft. elevation gain. Daypack. Optional
Day 3: Hiking
Level 4: 8.1 miles, 175ft. elevation gain, 3,825ft elevation loss. Backpack
Day 5: Hiking
Level 4: 11.1 miles, 2,100ft elevation gain. Daypack
Day 7: Kayaking
Level 2: 5 miles, 2.5 hours. Sea. Optional
Day 8: Kayaking
Level 3: 9 miles, 4 hours. Sea. Optional
Day 9: Hiking
Level 3: 4.1 miles, 1,100ft elevation gain. Daypack. Optional
Day 11: Biking
Level 2: 24 miles, 850ft elevation gain, 4 hours. Optional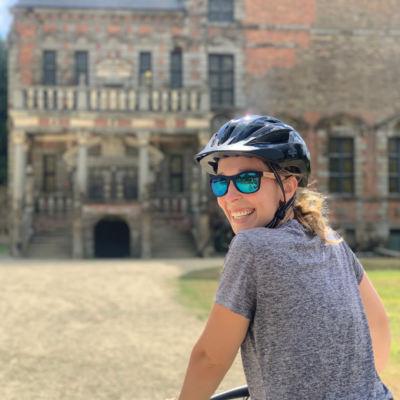 Click here to learn more about how we determine our activity levels. "Optional" means it is easy for you to skip the activity.  Skipping or modifying other routes may be possible but not in an easy manner. Activities are weather-dependent. Distances may vary from the information given above
Arrival
Geneva International Airport (GVA) Staff will be at airport the morning of arrival day to greet you. The official pilgrimage start time is noon- please arrive before then. If you arrive before or after start day, we can help you make arrangements to meet us independently. Please wait to buy your plane tickets until you receive a confirmation from us.
Departure
Geneva International Airport (GVA) ALP will organize transfers to the airport from Annecy (40 minutes) the morning of departure day until noon.
Transportation
We will be using a variety of transportation on this pilgrimage, both public and private.  We will be using mainly private taxis and coaches, but we may also hop on a ferry, bus, or train.    
Eligibility
Must be comfortable with the activities and activity levels listed. Must know how to swim in order to do the kayaking. Must be able to carry all of your belongings in a backpack and have a sense of adventure.

SCOTT JOHNSON– Campus Minister
PATRICK TOWLES– Development Director 
JESS TAYLOR– FOCUS Missionary
FR. JOHANNES SCHWARTZ– Chaplain
CHRISTOPHER BAKER– Founder and Director of ALP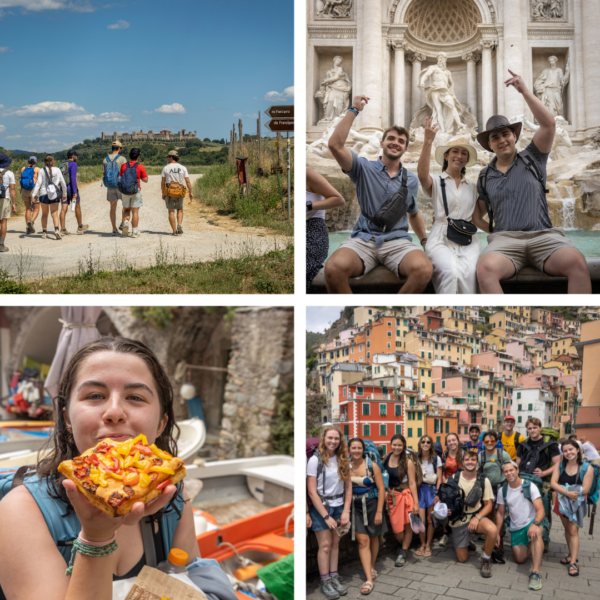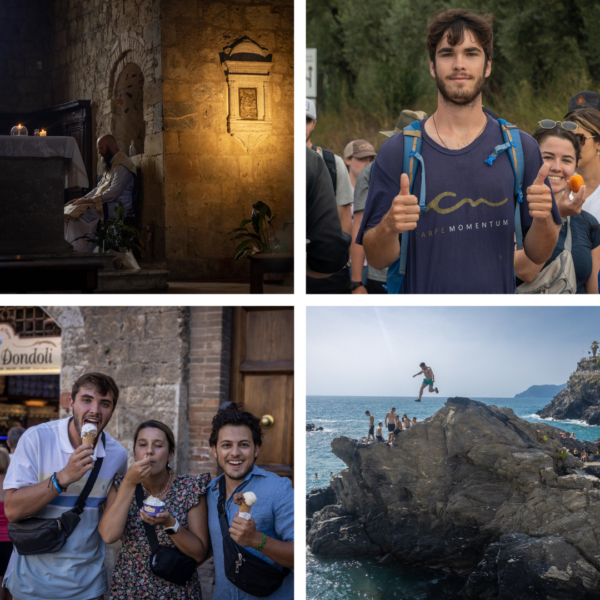 Step 2: Registration
We will send you the registration packet to complete and send back to us
Step 3: Payment & Confirmation
Please wait to buy your plane ticket until you recieve a confirmation