Pilgrimage to the tombs of the Apostles St. Andrew and St. Matthew along the Amalfi Coast. This is a single-stay pilgrimage: we will be staying in the guest house of an old Franciscan monastery on the water in the town of Maiori every night and using this as our home-base. Good food, wonderful company, historic sights, and incredible experiences will be with us all along the way!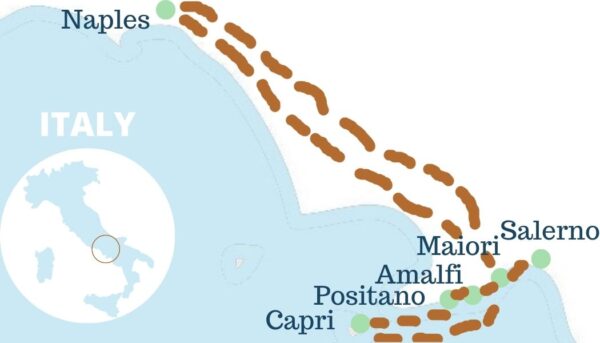 HIGHLIGHTS
Kayaking to St. Matthew's tomb in Salerno and to St. Andrew's tomb in Amalfi
Hiking the Path of the Gods with its unbeatable views of the sea
The chapel of Santa Maria di Cetrella on the Island of Capri
Amalfi (Days 1-2)
Arrive in Naples I Explore the town if you arrive early I Transfer to Maiori where we will lodge every night of the pilgrimage in the guest house of an old Franciscan monastery with plenty of lemon trees and views of the sea I Kayak round trip from Maiori to Amalfi to pray at the tomb of St. Andrew and explore the town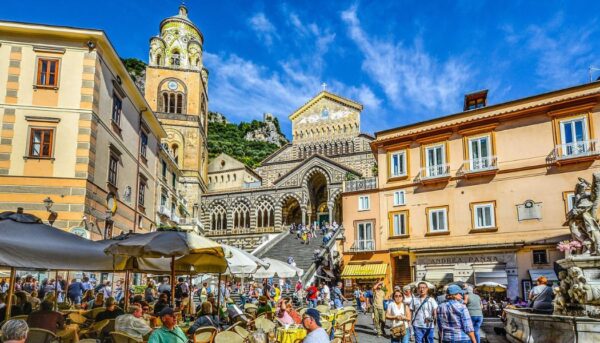 Capri (Day 3)
Ferry from Maiori to the Island of Capri I Hike the pilgrimage route to the hermitage of Santa Maria di Cetrella which was walked by sailors to implore the help of the Madonna on their often perilous sea voyages in search of coral I Enjoy some free time to relax, pray, or visit the Blue Grotto, the Villa Jovis, or another one of Capri's wonders!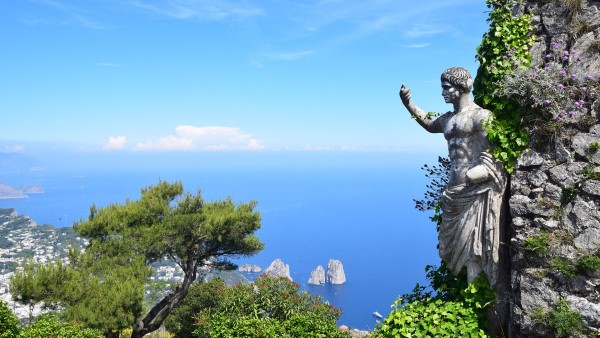 The Path of the Gods (Day 4)
Transfer high up into the mountains to hike the Path of the Gods (named either because it seems to connect earth and heaven or due to the legend that the Greek gods hiked it to rescue Ulysses from the Sirens) I Enjoy stunning views of the Amalfi coast the entire time I The path finishes in the beautiful town of Positano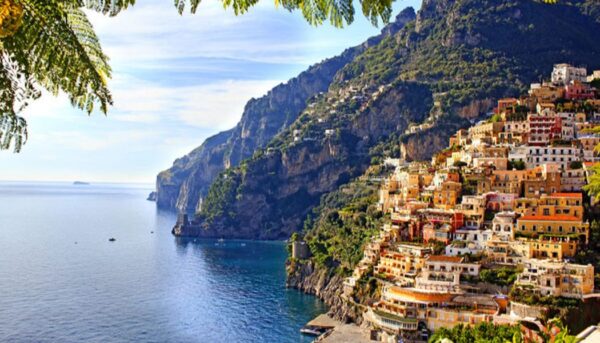 Salerno & Ravello (Day 5-6)
Kayak toward Salerno visiting hidden beaches and colorful towns along the way I Pray at the tomb of St. Matthew the Apostle I On the last morning, visit the stunning town of Ravello and the Villa Rufolo I From Ravello, we will head back to Naples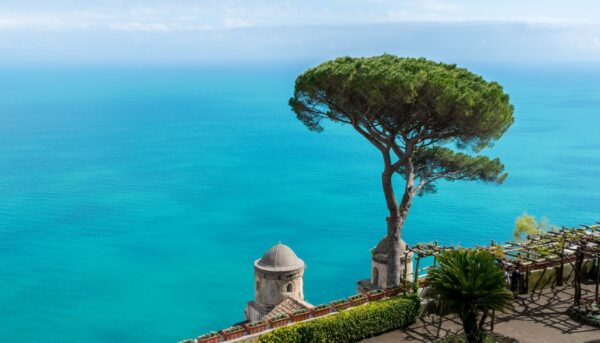 *Itinerary is subject to change
 Our lodging for the entire pilgrimage will be in a beautiful religious house of hospitality and Franciscan monastery.  There is a church, beautiful gardens filled with lemon trees, and a terrace overlooking the sea.  The rooms are clean, simple, and nice. 1 or 2 roommates of the same gender.  If you are interested in a single-room supplement, please contact us- we cannot guarantee its availability.  Air conditioner is generally not available.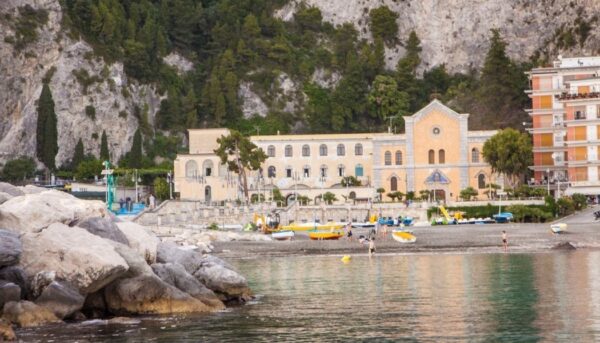 EATING
 We eat mainly at restaurants. Menus may be limited to fixed options or set menus. Some meals may be picnics.  Breakfasts provided are in the local style (typically not as hearty as American style). We can accommodate most food allergies.
LUGGAGE
You may bring any type of luggage with you on this trip.  This particular itinerary is not a backpack-only pilgrimage.  We will provide a detailed packing list.
PRAYING
Prayer is at the heart of our pilgrimages.  Daily mass, the liturgy of the hours, the rosary, and other prayer opportunities are available throughout the pilgrimage for you to join as you like.  We hope to have a chaplain on every trip, but we cannot guarantee this.
• 5 nights lodging
• All breakfasts
• All dinners (including a drink)
• Ground & water transportation
• Villa Rufolo entrance fee
• Outdoor activities (guides, rental equipment, tips)
• Pilgrimage materials (reading packet, prayer booklet, maps, group gear)
• Masses and other spiritual activities
• All tips and service charges to drivers, restaurants, etc.
• Flights
• Any lunches
• Airport shuttle at the beginning or end of the pilgrimage
• Single room supplement if available ($500)
• Fee if paying by credit card
• Anything else not listed
May 22-27, 2023
Sign-up Deadline: March 15, 2023 (late sign-ups accepted) I Max Capacity: 20
THE ITALIAN RIVIERA
Italy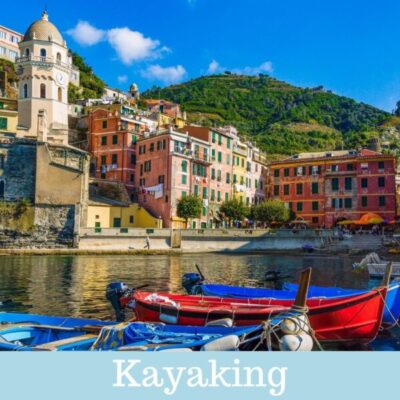 Through the colorful coastline of fishing villages of the Cinque Terre to the tomb of St. Catherine of Genoa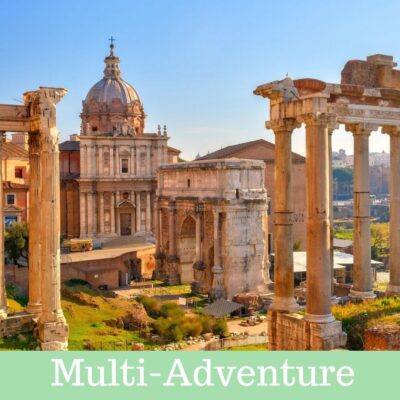 The Vatican, the tomb of St. Rita, the Way of St. Francis of Assisi, Spoleto, and more!
Day 2: Kayaking
Level 3: 6 miles, 3-4 hours. Sea. Optional
D

ay 3: Hiking
Level 3
: 5 miles, 1187ft elevation gain. Optional
Day 4: Hiking
Level 2: 5 miles, 950ft. elevation gain. Optional
Day 5: Kayaking
Level 2: 5 miles, 2.5-3.5 hours. Sea. Optional
Click here to learn more about how we determine our activity levels. "Optional" means it is easy for you to skip the activity.  Skipping or modifying other routes may be possible but not in an easy manner. Distances may vary from the information given above. Activities are weather-dependent.
Arrival
Naples International Airport (NAP) or Rome Fiumicino Airport (FCO). Our meeting point will be at the Napoli Centrale Stazione (Naples Center Train Station), so you may fly into either airport and easily head to the Naples train station where staff will greet you. The official pilgrimage start time is 3:00p.m.- please arrive before then. If you arrive early, you will have time to explore Naples. Please wait for a confirmation to buy a plane ticket.
Departure
This pilgrimage will end back in Naples at the train station at 3:00p.m.  You are free to leave beforehand if needed.  From the Naples train station, you may head to the airport, stay the night in the city, or head to Rome and fly out from there the following morning.  ALP staff is happy to help you with your travel plans after the pilgrimage– whatever they may be!
Transportation
We will be using a variety of transportation on this pilgrimage, both public and private.  We will be using some ferries, private taxis and shuttles, and may occasionally hop on a bus.   
Insurance
Each pilgrim should have health insurance. We highly recommend purchasing traveler's insurance as well.
Eligibility
Must be comfortable with the activities and activity levels listed and have a sense of adventure. Must know how to swim in order to kayak.
CHRISTOHER BAKER– Founder and Director of ALP
There will be one or two other leaders, one of whom hopefully will be a priest, on the pilgrimage who are yet to be determined.  
Step 1: Sign up
 Fill out our short online form
Step 2: Registration
We will send you the registration packet to complete and send back to us
Step 3: Payment & Confirmation
Please wait to buy your plane ticket until you recieve a confirmation