This pilgrimage has as its destinations the Great St. Bernard and the Sanctuary of Notre Dame de Guerison (Our Lady of Miraculous Healing) and follows three incredible paths: the world famous Tour du Mont Blanc, the ancient Via Francigena, and the beautiful Tour du Saint Bernard.  We will be hiking through the alps in France, Italy and Switzerland with their wildflowers, cowbells, waterfalls, and stone-roof houses in abundance.  Come ready for some adventure, ready for life-changing spiritual encounters, and ready for some elevation gain!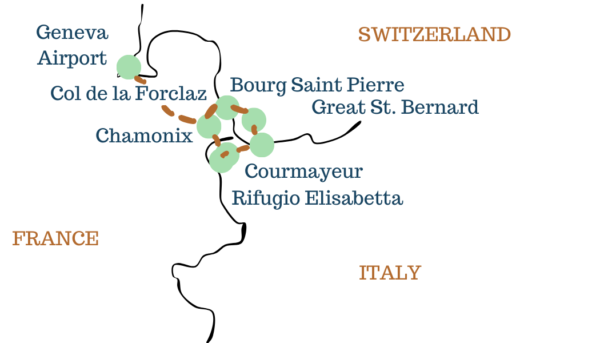 HIGHLIGHTS
The Church of San Pantaleone which St. Gianna Molla frequented during her vacations
The Miage glacier and the chance to swim in the Miage glacial lake

The views of Mont Blanc from the Col du Malatra
France
Days 1-3: Arrive in Geneva I Transfer to Chamonix I Explore the town, pray in the church of St. Bernard I Hike on the world famous Tour du Mont Blanc, the 7-11 day itinerary that circles Mont Blanc, for two consecutive days from Refuge La Flegere to Tre-le-Champ and from Col de la Forclaz to Champex-Lac I Enjoy local food, especially cheese, and beautiful scenery all along the way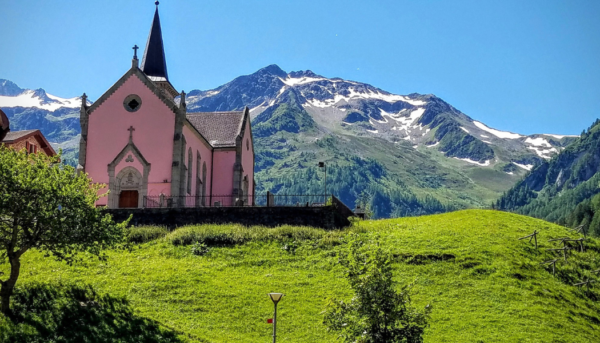 Switzerland
Days 4-5: Hop onto the Via Francigena, the ancient pilgrimage route from Canterbury, England to Rome I Hike from Bourg Saint Pierre in Switzerland to the top of the Great St. Bernard Pass where there is an ancient monastery and the famous Great St. Bernard dogs I Pray at the tomb of St. Bernard I Take a rest day or dayhike to the incredible Lacs de Fenetres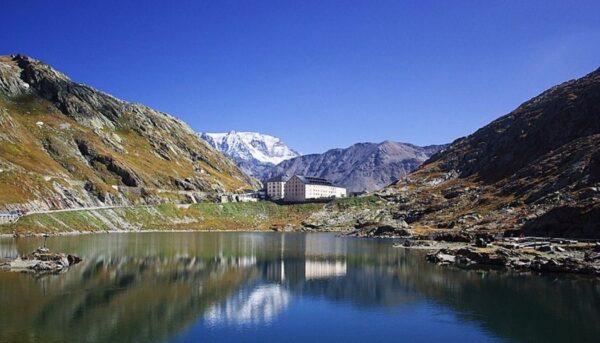 Italy
Days 6-9: Start hiking on the Tour du Saint Bernard to Rifugio Frassati I Continue over the Col du Malatra to Courmayeur I Hop back on the Tour du Mont Blanc for a dayhike to Rifugio Elisabetta ending at the Sanctuary Notre Dame de Guerison, the beloved church to mountaineers and the people of Aosta Valley I Transport to the airport the morning of Day 9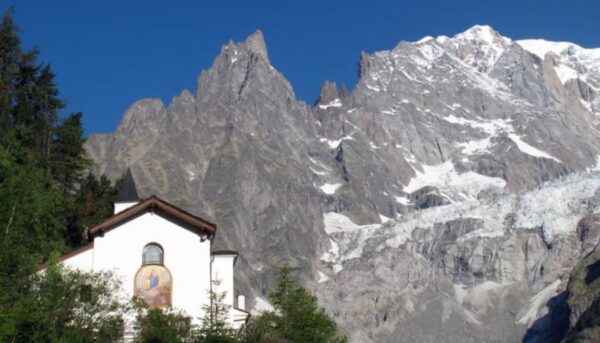 *Itinerary is subject to change 
The lodgings on this trip are incredible places.  Several of them will be "rifugi" which are structures designed to give backpackers a warm bed and a delicious meal.  Some of them can only be reached by foot.  Typically, the rooms are dormitory style with several bunk beds.  ALP cannot guarantee that rooms will be separated by gender or from non-ALP participants.  Other nights in hotels will be double-occupancy.  Air conditioner is generally not available.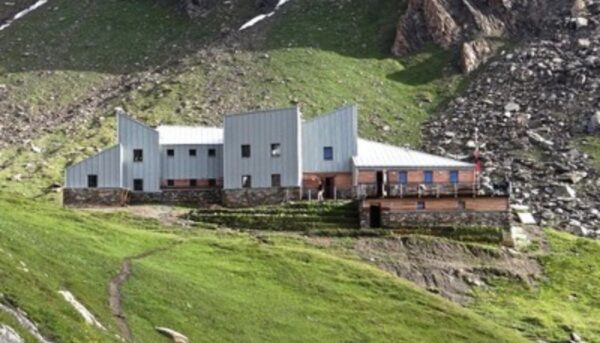 EATING
 We will eat at restaurants and our lodgings. Menus may be limited to fixed options or set menus. Lunches will usually be picnics.  Breakfasts provided are in the local style (typically not as hearty as American style). We can accommodate most food allergies.
BACKPACKS
All of your belongings must fit in a backpack worn on your back.  We indicate in the Activity Levels section if hiking will be done with a backpack or a daypack.  No rolling suitcases or other types of luggage are allowed on this trip.  We will provide a detailed packing list.
PRAYING
Prayer is at the heart of our pilgrimage.  Mass, the liturgy of the hours, the rosary, and other prayer opportunities are available throughout the pilgrimage for you to join as you like.  We hope to have a chaplain on every trip, but we cannot guarantee this.
• 8 nights lodging
• All breakfasts
• 3 lunches
• All dinners (with a drink)
• Ground transportation
• Airport shuttles at the beginning and end of the pilgrimage
• Outdoor activities (guides, rental equipment, tips)
• Pilgrimage materials (reading packet, prayer booklet, maps, group gear)
• Masses and other spiritual activities
• All tips and service charges to drivers, restaurants, etc.
• Flights
• 5 lunches
• The St. Bernard Musuem and visit to the dog kennels
• Fee if paying by credit card
• Anything else not listed
August 6-14, 2024
Sign-up Deadline: March 1, 2023  
Max Capacity: 15 people

Day 2: Hiking
Level 3: 6.4miles, 1,675ft. elevation gain. Backpack
Day 3: Hiking
Level 5: 9.1 miles, 4,425ft elevation gain. Backpack
Day 4: Hiking
Level 5: 7.2 miles, 3,609ft elevation gain. Backpack
Day 5: Hiking
Level 4: 7.5 miles, 2,875ft elevation gain. Daypack. Optional
Day 6: Hiking
Level 4: 6.1 miles, 2175ft elevation gain. Backpack
Day 7: Hiking
Level 3: 12.2 miles, 1,800ft elevation gain. Backpack
Day 8: Hiking
Level 4: 11.1 miles, 2,100ft elevation gain. Daypack. Optional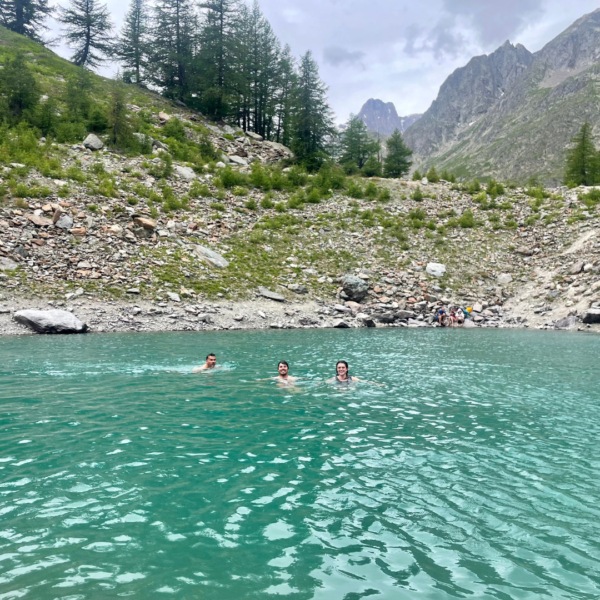 Click here to learn more about how we determine our activity levels. "Optional" means it is easy for you to skip the activity.  Skipping or modifying other routes may be possible but not in as easy of a manner and should not be relied upon when signing up. Activities are weather-dependent. Distances may vary from the information given above
Arrival
Geneva International Airport (GVA). Staff will be at airport the morning of arrival day to greet you. The official pilgrimage start time is noon- please arrive before then. If you arrive before or after start day, we can help you make arrangements to meet us independently. Please wait to buy your plane tickets until you receive a confirmation from us.
Departure
Geneva International Airport (GVA) This pilgrimage ends at 7am on departure day. We will provide private transportation through the Mont Blanc Tunnel early that morning to the airport. 
Transportation
We will be using mainly private transfers on this pilgrimage, but we may hop on a bus or two as they are sometimes more convenient. 
Eligibility
Must be comfortable with the activities and activity levels listed. Must be able to carry all of your belongings in a backpack and have a sense of adventure.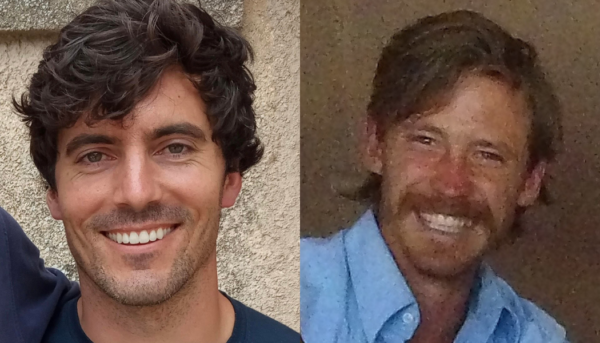 CHRISTOHER BAKER– Founder and Director of ALP
JOHNNY KUPLACK– Physical education teacher and ultra-runner
Step 1: Sign up
 Fill out our short online form
Step 2: Registration
We will send you the registration packet to complete and send back to us
Step 3: Payment & Confirmation
Please wait to buy your plane ticket until you recieve a confirmation