The Via Francigena is the ancient pilgrimage route from Canterbury, England to Rome, Italy passing through Switzerland and France as well.  We will be hiking perhaps the most beautiful portion of the route from Siena through Val d'Orcia in Tuscany to Lake Bolsena, the site of the eucharistic miracle of 1263.  From there, we will change paths and hike the procession route from Bolsena to Orvieto with its magnificent cathedral where the evidence of the miracle is still housed.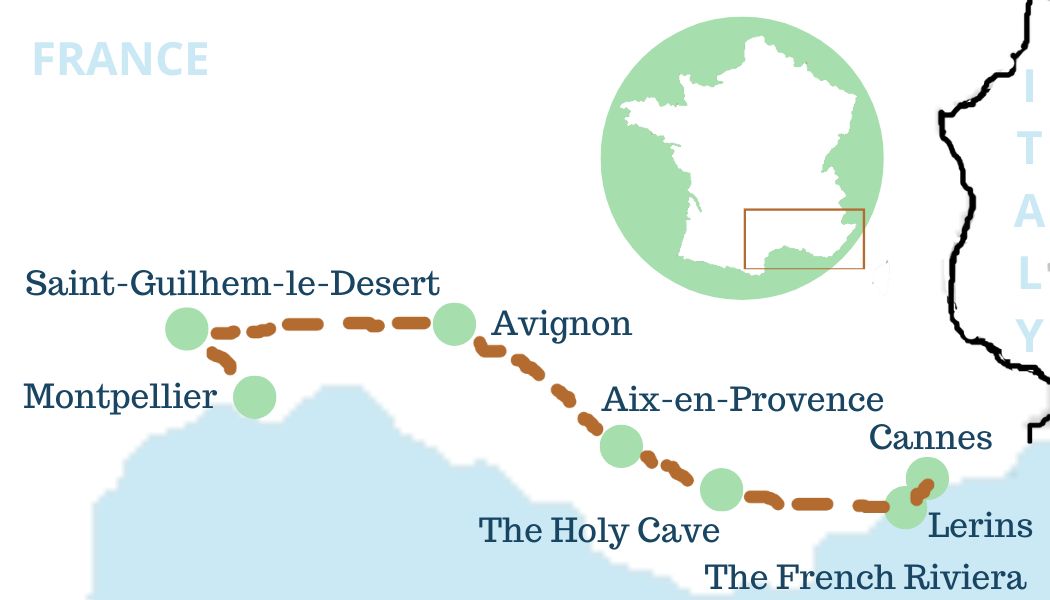 HIGHLIGHTS
The relics of St. Catherine of Siena
Hiking through the Tuscan hills of Val d'Orcia and visiting the numerous picturesque towns
The cathedral of Orvieto with its world class frescos
Tuscany (Days 1-4)
Meet in Siena I Welcome dinner and orientation I Pray at the relics of St. Catherine of Siena and visit the beautiful cathedral I Transfer to Buonconvento nearby and hike to San Quirico d'Orcia I Enjoy views of the perched fortress of Radicofini while hiking through beautiful towns like Bagno di Vignoni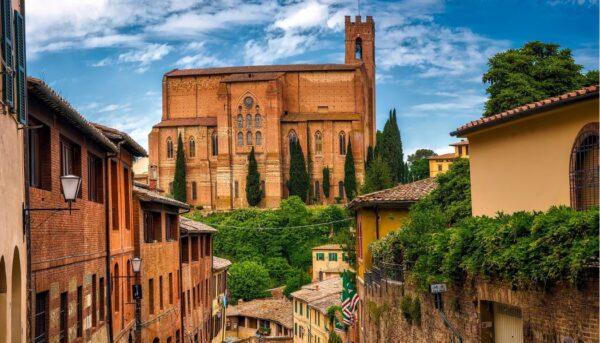 Lazio (Days 4-6)
Hike into Lazio to the town of Bolsena through beautiful groves and fields with views of the expansive lake I Learn about the eucharistic miracle that took place at the Church of St. Christina I Spend a day relaxing  by the clear waters of the lake and exploring the hilltop town of Montefiascone or continue hiking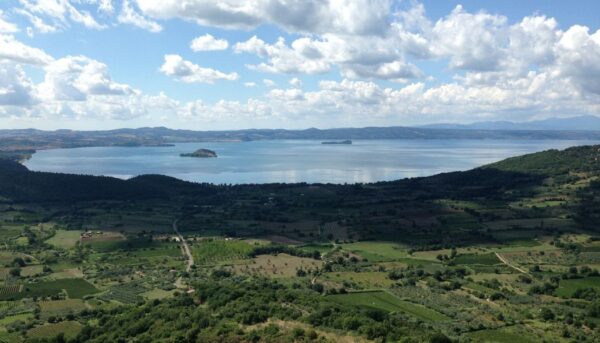 Umbria (Day 6)
The last day will be spent hiking along the ancient Roman road linking Orvieto to Bolsena which is also the procession route taken to bring the miraculous host and corporal to Orvieto where Pope Urban IV was residing I Visit the cathedral and pray in the chapel that still houses the corporal I Easily transfer from the Orvieto train station to Rome or Florence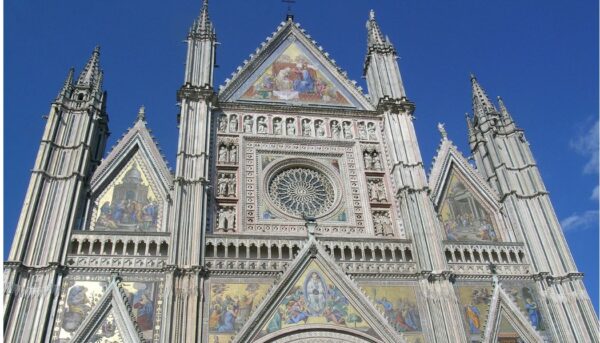 Religious Houses & Hotels
 We prioritize the guest accommodations of religious houses (monasteries, convents, sanctuaries, etc.).  The culture and history of these places really adds to the character of our pilgrimage.  The rooms are clean, comfortable, and nice, but not "luxurious'". Normally 1 or 2 roommates of the same gender.  If you are interested in a single-room supplement, please contact us- we cannot guarantee its availability.  Air conditioner is generally not available.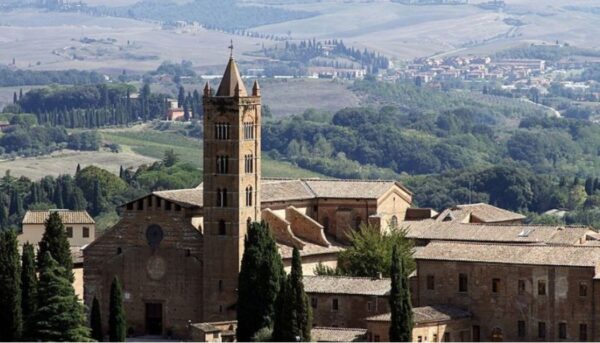 EATING
 We eat mainly at restaurants. Menus may be limited to fixed options or set menus. Some meals may be picnics.  Breakfasts provided are in the local style (typically not as hearty as American style). We can accommodate most food allergies.
LUGGAGE
You may bring any type of luggage with you on this trip.  This particular itinerary is not a backpack-only pilgrimage.  We will be using luggage transfers.  We will provide a detailed packing list.
PRAYING
Prayer is at the heart of our pilgrimages.  Daily mass, the liturgy of the hours, the rosary, and other prayer opportunities are available throughout the pilgrimage for you to join as you like.  We hope to have a chaplain on every trip, but we cannot guarantee this.
• 5 nights lodging
• All breakfasts
• All dinners (with a drink)
• Ground transportation except to and from the pilgrimage
• Luggage transfers
• Outdoor activities (guides, rental equipment, tips)
• Entrance fees into the Siena and Orvieto cathedrals
• Pilgrimage materials (reading packet, prayer booklet, maps, group gear)
• Masses and other spiritual activities
• All tips and service charges to drivers, restaurants, etc.
• Flights
• All lunches
• Transportation to and from the pilgrimage
• Single room supplement if available ($650)
• Fee if paying by credit card
• Anything else not listed
april 9-14, 2023
Sign-up Deadline: February 1st, 2023 I Max Capacity: 20 
Day 2: Hiking
Level 3: 8.3 miles, 820ft elevation gain. Daypack. Optional
Level 4: 13 miles, 1,574ft elevation gain. Daypack. Optional
Day 3: Hiking
Level 1: 3 miles,  400ft elevation gain. Daypack. Optional
Level 4: 11 miles,  1,416ft elevation gain. Daypack. Optional
Level 5: 20 miles,  3,116ft elevation gain. Daypack. Optional
Day 4: Hiking
Level 2: 6.5 miles, 328ft elevation gain. Daypack. Optional
Level 5: 14.2 miles, 721ft elevation gain. Daypack. Optional
Day 5: Hiking
Level 4: 11 miles, 951ft elevation gain. Daypack. Optional
Day 6: Hiking
Level 1:
3.5
miles, 600ft elevation gain. Daypack. Optional
Level 4:
11.2
 miles, 1,453ft elevation gain. Daypack. Optional
Click here to learn more about how we determine our activity levels. "Optional" means it is easy for you to skip the activity.  Skipping or modifying other routes may be possible but not in an easy manner. All activities are weather dependent.  Distances are subject to change.
Arrival
Our meeting point will be at the train station in Siena which can be easily reached from both Rome and Florence.  The official pilgrimage start time is 3:00p.m.- please arrive before then. If you arrive early, you will have more time to explore the town. Please wait for a confirmation to buy a plane ticket.
Departure
This pilgrimage will end in Orvieto at 5pm on the last day of the pilgrimage.  You can take a train from Orvieto to Rome or Florence very easily.  You are free to leave beforehand if needed.  ALP staff is happy to help you with your travel plans after the pilgrimage– whatever they may be!
Transportation
We will be using a private transportation on this pilgrimage- taxis and private shuttles.
Insurance
Each pilgrim should have health insurance. We highly recommend purchasing traveler's insurance as well.
Eligibility
Must be comfortable with the activities and activity levels listed and have a sense of adventure.
CHRISTOHER BAKER– Founder and Director of ALP
There will be one or two other leaders, one of whom hopefully will be a priest, on the pilgrimage who are yet to be determined.  
Step 1: Sign up
 Fill out our short online form
Step 2: Registration
We will send you the registration packet to complete and send back to us
Step 3: Payment & Confirmation
Please wait to buy your plane ticket until you recieve a confirmation