italy Hiking
Open-enrollment

Hike the Way of St. Francis (the pilgrimage route connecting the places associated with the life of St. Francis) and the Via Francigena (the pilgrimage route from England to Rome) through Tuscany . Spend layover days in Assisi and Siena in addition to some time in Rome and Orvieto.  Multiple activity level options, private transport, and great accommodations make this pilgrimage a great opportunity for all ages!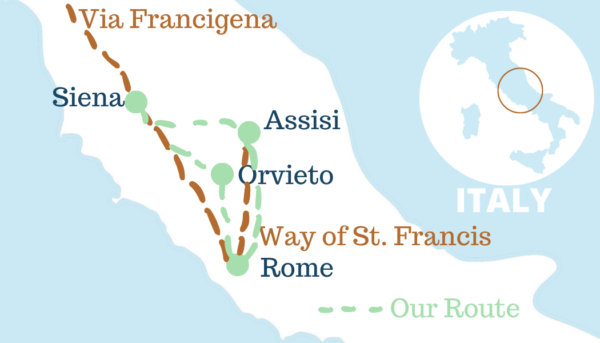 HIGHLIGHTS
The feast day of St. Catherine of Siena in Siena
Hiking into Assisi through hillside olive groves
The Cathedral of Orvieto and the views from the town
Rome (Days 1-2)
Arrival at Rome Fiumicino Airport (FCO) and private transport into Rome I Explore the small streets of the Eternal City I Visit Piazza Navona, the Pantheon, and the Trevi Fountain I Get a breathtaking view of the Roman Forum and Colosseum from the Capitoline hill I Mass in St. Peter's Basilica on the morning of Day 2 before departure for hiking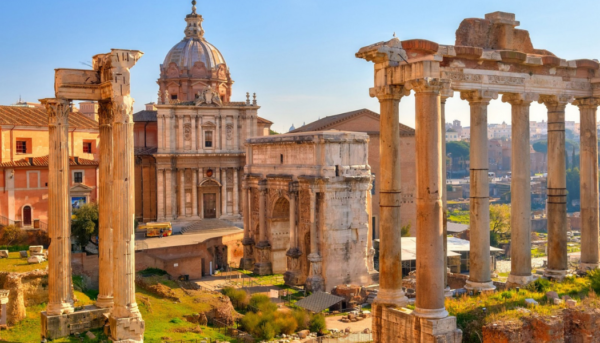 Hike the Way of St. Francis & Assisi (Days 2-5)
Arrive in in the region of Umbria, "the green heart of Italy" and hike from the beautiful town of Spello into Assisi on the Way of St. Francis I  Enjoy a variety of optional hikes around Assisi on Day 3 I Day 4 is a rest day in Assisi to visit the Basilicas of St. Francis and St. Clare and to soak in the beautiful views from the town 
Hike the Via Francigena & Siena (Days 5-8)
Head to San Quirico D'Orcia the morning of Day 5 to begin some hiking in Val D'Orcia, a UNESCO World Heritage Site, to Bagno Vigoni I Day 6's hiking is to the walled in town of Monteriggioni, mentioned by the famous Italian poet Dante in his Divine Comedy I Celebrate the feast day of St. Catherine and participate in the festivities held in Siena on Day 7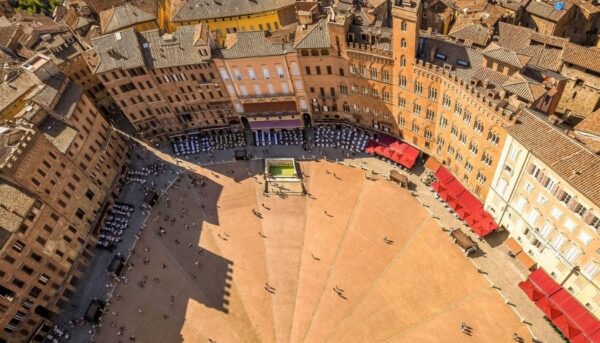 Orvieto & Rome (Days 8-9)
Leave Siena the morning of Day 8 for Orvieto I Visit the Cathedral, one of Italy's most beautiful, which was built to house the Corporal of Bolsena, the relic of the Eucharistic Miracle of 1263 I Explore the small streets and enjoy the panoramas I Goodbye dinner in Rome I Departure the morning of Day 9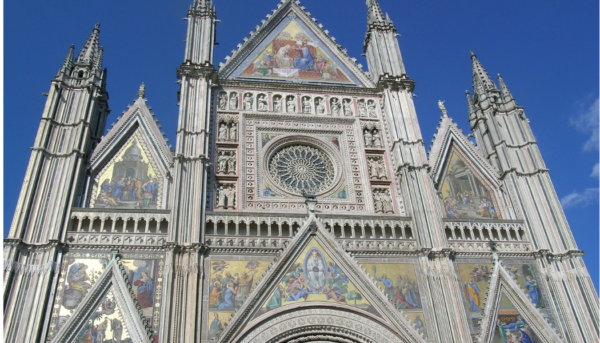 *Itinerary subject to change
Religious houses & a four-star hotel
 We will be staying in nice religious houses in Rome (2 nights) and Assisi (3 nights) and a four-star hotel in Siena (3 nights).  Prioritizing cleanliness and location, our goal is to provide you with all of the necessary comforts without changing the character of pilgrimage for luxury travel and tourism.   Rooms will be double occupancy with a single-room supplement available for purchase.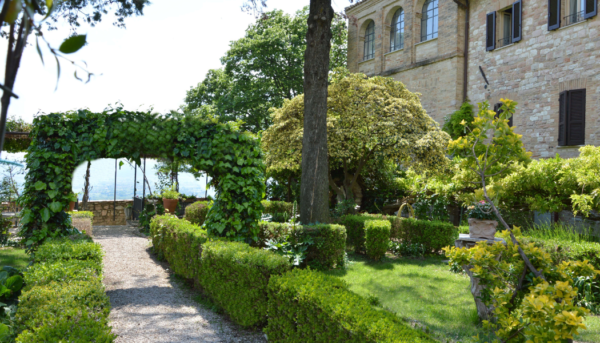 EATING
 We eat dinners at restaurants. Menus may be limited to fixed options or set menus. Lunches will be picnics.  Breakfasts provided are in the local style (typically not as hearty as American style). We can accommodate most food allergies.
LUGGAGE
You may bring any type of luggage with you on this trip.  This particular itinerary is not a backpack-only pilgrimage.  We will provide a detailed packing list.  We will be using luggage transfers as needed while we hike.
PRAYING
Mass and other prayer opportunities will be available during the pilgrimage for you to join as you like. We hope to have a chaplain on the trip, but we are still waiting for a confirmation. 
• 8 nights lodging
• All breakfasts
• 3 lunches
• All dinners except 1
• Ground transportation (private) during the pilgrimage
• Entrance fees into the Siena and Orvieto Cathedrals
• Airport shuttles to Rome at the beginning and from Rome at the end of the pilgrimage
• Outdoor activity guides
• Masses and other spiritual activities
• All tips and service charges to drivers, restaurants, etc.
• Flights
• 5 lunches
• 1 dinner
• Single room supplement ($550)
• Anything else not listed
April 23- May 1, 2024
Sign-Up Deadline: January 1, 2024
Final Payment: February 1, 2024

ACTIVITY LEVELS
CHOOSE YOUR HIKE
Day 2: Hiking
Level 2: 7.4 miles, 938ft elevation gain, 442ft loss
Day 3: Hiking
Level 2: 4.7 miles, 1,350ft elevation gain, 1,350ft loss
Level 2: 4.9 miles, 557ft elevation gain, 1,198ft loss
Level 3: 9.6 miles, 1,907ft elevation gain, 2548 loss
Day 5: Hiking
Level 1: 3.3 miles, 396ft elevation gain, 751ft loss
Level 3: 1o.5 miles, 1,466ft elevation gain, 1,801ft loss
Day 6: Hiking
Level 1: 4.4 miles, 590ft elevation gain, 534ft loss
Level 2: 7.5 miles, 1,000ft elevation gain, 934ft loss
All hikes are optional. Click here to learn more about how we determine our activity levels. Distances may vary from the information given above. Activities are weather-dependent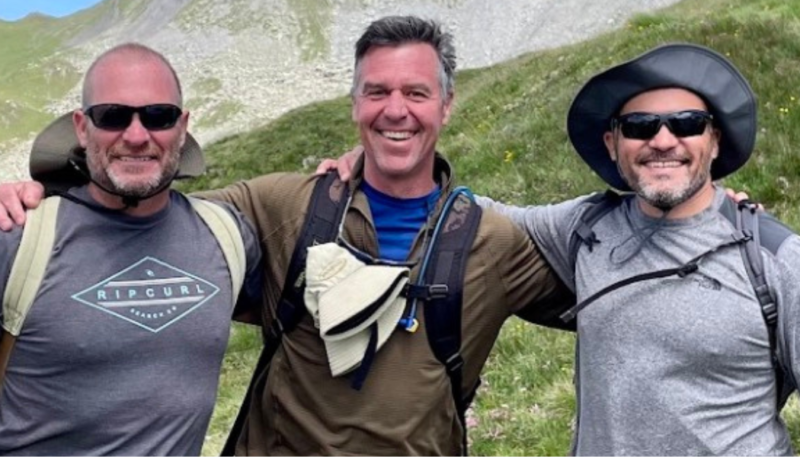 Arrival &
 

Departure

 

We will provide private transportation to and from Rome Fiumicino Airport (FCO). There will be an optional group flight from Boston to Rome.  The cost for this flight is separate from the pilgrimage cost.  More details will be provided.
Transportation
We will be using only private means of transportation on this trip: Coaches, vans, or taxis. 
Insurance
Each pilgrim should have health insurance. We highly recommend purchasing traveler's insurance as well.
Eligibility
This pilgrimage is geared toward older adults, but all ages are welcome. Must be comfortable with the activities and activity levels listed if hiking. Must have a sense of adventure.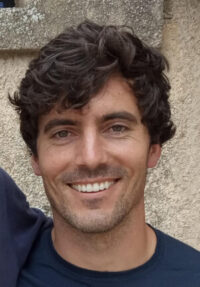 CHRISTOHER BAKER– Founder and Director of ALP
TERESA DRELICK– Retired CFO, veteran, and lover of pilgrimages. Climbed Kilimanjaro, heli-hiked in the Canadian Rockies, horseback rode in Monument Valley, dogsledded in the Arctic Circle, and climbed Mount Washington in the winter. Excited to share the combination of hiking and praying with you.
Step 1: Sign up & Deposit
 Fill out our short online form. $500 deposit required to reserve your place
Step 2: Registration
We will send you the trip info and registration packets to complete and send back to us
Step 3: Payment & Confirmation
Please wait to buy your plane ticket until you receive a trip confirmation